The Legacy of Johnnie Walker
In 1820, a grocer named John Walker was frustrated by the variation in bottles of single malt he sold. His solution was to blend these whiskies together to produce a more consistent product – bottling and selling this blended whisky under his own name from his grocery store in Kilmarnock, Ayrshire, a small town in the lowlands of Scotland.
John's blended whisky business was a success, but after his death in 1857, it was his son Alexander 'Alec' Walker (and later his grandsons), that established Johnnie Walker as a huge name in whisky. Exporting blended whisky to the world on ships leaving the ports in nearby Glasgow— the square bottle the brand is now known for, ensured fewer breakages and more bottles in each shipment.
To ensure a supply of single malts to use in their blends, the Walkers went on a string of acquisitions buying Cardhu Distillery in 1893. In 1915/16 they purchased Coleburn, Clynelish, Talisker and Dailuaine distilleries, and in 1923 they bought Mortlach Distillery. This access to a huge supply of single malts helped Johnnie Walker keep pace with demand— and formed the base of a suite of brands now housed by Diageo.
Johnnie Walker Today
Johnnie Walker is now the most widely distributed brand of blended Scotch whisky in the world— being sold in almost every country globally. The brand is famous for its colourful range of Red, Black, Green, Gold, and Blue Label whiskies.
The Art of Blending
Blending Scotch Whisky is an art form requiring both skill and creativity. Johnnie Walker's Master Blenders, led by Jim Beveridge, possess extensive knowledge of all whisky types, a legacy started by founder John Walker.
They meticulously blend different whiskies, sourced from a vast array of distilleries across Scotland. With access to over 10 million casks of Single Grain and Single Malt Scotch Whiskies, they ensure a consistent flavour and quality in each blend. This dedicated team not only maintains the beloved whiskies of today but also innovates for the future, continually exploring and creating new blends.
The Johnnie Walker Range
The brand is famous for its colourful range of whiskies, each with its unique character and flavour profile. Here's a brief look at each:
Whether you're a seasoned whisky enthusiast or new to the world of whiskies, Johnnie Walker offers a blend for every taste. Explore the range and find your favourite.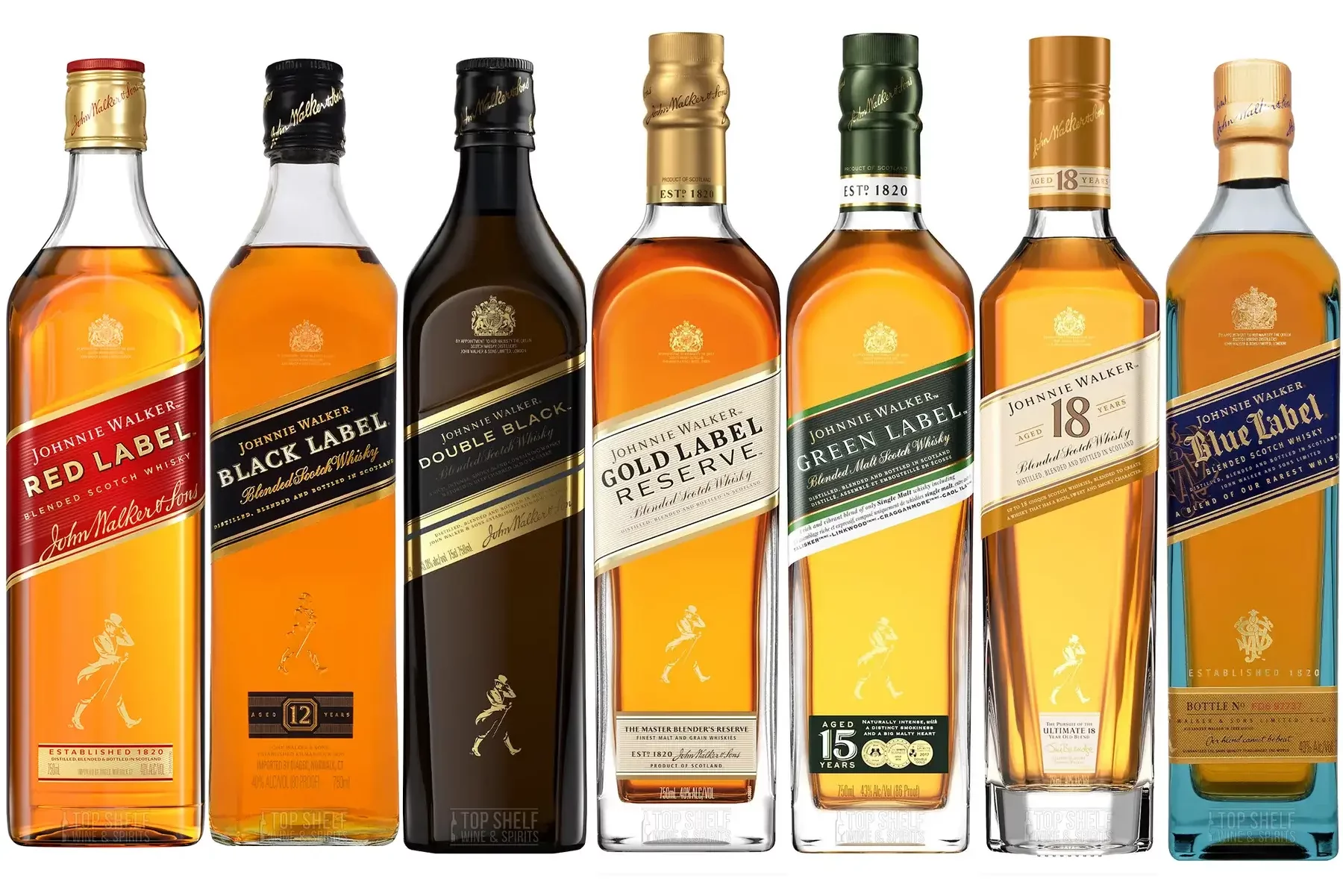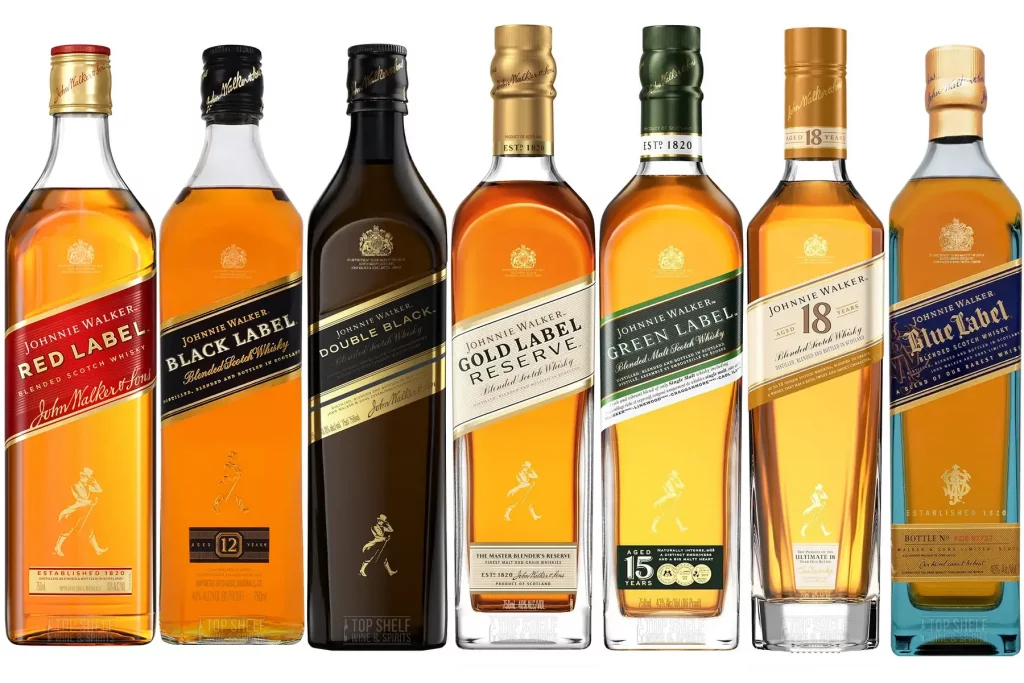 Johnnie Walker Princes Street
As Johnnie Walker is a house of blends, it has no single distillery to visit and tour. Instead, you can visit the brand experience at Johnnie Walker Princes Street in Edinburgh for immersive experiences, unique personalised gifts or mementos and exclusive cocktails and cuisine served with exceptional views of Edinburgh Castle from the rooftop bar.


Frequently Asked Questions about Johnnie Walker
Why are Johnnie Walker labels slanted?
The slanted label, at precisely 24°, was a design choice that allowed for bigger text, making the bottle stand out more. The square shape of the bottle also allowed more bottles to be shipped at one time and reduced breakage during transit.
Why are Johnnie Walker bottles square?
The square shape of Johnnie Walker bottles was designed to reduce bottle breakages during transport and ensure the product was delivered safely to customers.
What was Johnnie Walker's slogan?
Johnnie Walker's slogan is 'Keep Walking', which has been the brand's platform since 1999.
Is Johnnie Walker based on a real person?
Yes, Johnnie Walker was a real person. He was a grocer who sold his own private label whiskey from his grocery store in Kilmarnock, Ayrshire, Scotland.
Who invented Johnnie Walker whiskey?
Johnnie Walker whiskey was invented by John Walker, who first opened a grocery store in rural Scotland in 1820. This marked the beginning of a journey that took Johnnie Walker whiskies to the four corners of the world.
Why is Johnnie Walker expensive?
Johnnie Walker is expensive due to the rarity and quality of the scotches that make up its blends. For example, only 1 in 10,000 casks are considered good enough by the brand to merit the Blue label.
What is the hierarchy of Johnnie Walker whiskey?
The hierarchy of Johnnie Walker whiskies, from the most common to the most premium, is as follows: Red Label, Black Label, Green Label, Gold Label Reserve, and Blue Label.
Why is Blue Label so expensive?
Johnnie Walker Blue Label is expensive due to its rarity. The scotches that form the Blue Label blend are themselves rare, and only one in every 10,000 casks is considered to be of sufficient quality to deserve the label.
What's the most expensive bottle of Johnnie Walker?
The most expensive bottle of Johnnie Walker is the Blue Label, which is an exquisite blend made from some of Scotland's rarest and most exceptional whiskies.
How many years is Johnnie Walker Blue aged?
Johnnie Walker Blue Label is transferred to oak casks to mature for a minimum of three years. The casks are one of the most important things to affect the color and flavor of the finished whisky.
How many years is Johnnie Walker Red aged?
Johnnie Walker Red Label is created using only whiskies aged for a minimum of 12 years.
Do you drink Johnnie Walker straight?
Yes, you can enjoy Johnnie Walker whisky neat, or with a few drops of water which can open up the flavors. However, it's recommended to go slowly and not add too much water at once. Red and Black Label also make a great choice to use in whisky cocktails.
Who is Johnnie Walker biggest competitor?
Johnnie Walker's biggest competitors are other major whisky brands such as Jameson, Jack Daniels, and Chivas Regal.
Is whiskey good for the body?
While moderate consumption of whisky can have certain health benefits, like potentially reducing the risk of heart disease, it's important to remember that excessive drinking can lead to negative health effects.
What is the difference between Scotch and whiskey?
Scotch is a type of whiskey that is entirely produced and bottled in Scotland. The spelling "whiskey" is used in the United States and Ireland, while "whisky" is used in Australia, Japan, and Scotland. You can learn more about the differences on our Scotch Whisky page.