When it comes to enjoying your favourite tunes on the go, the quality of your portable speaker can make all the difference. Enter the Sonos Roam, an ultra-portable smart speaker that promises to deliver a unique blend of convenience and quality sound. But does it live up to the hype? Let's find out.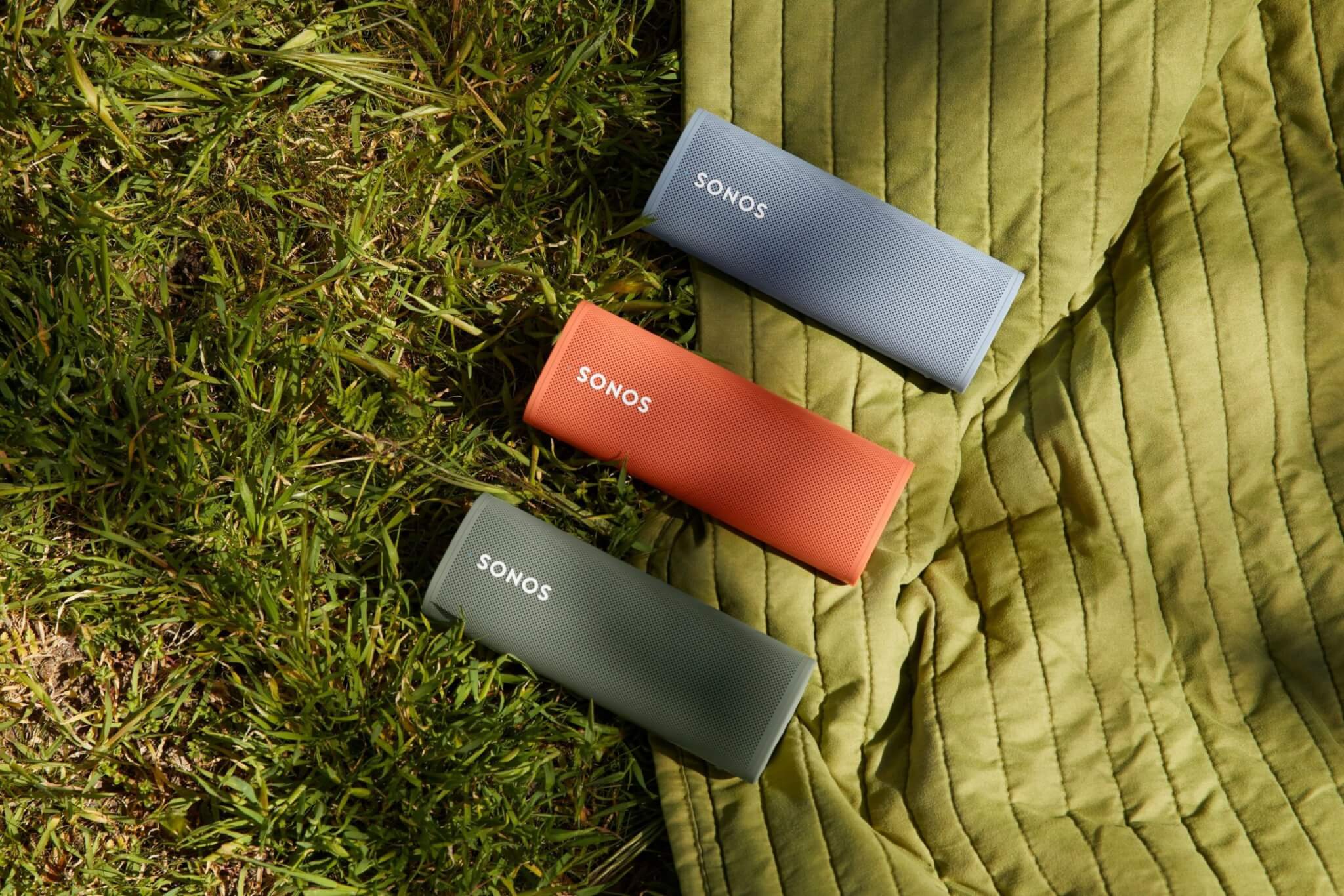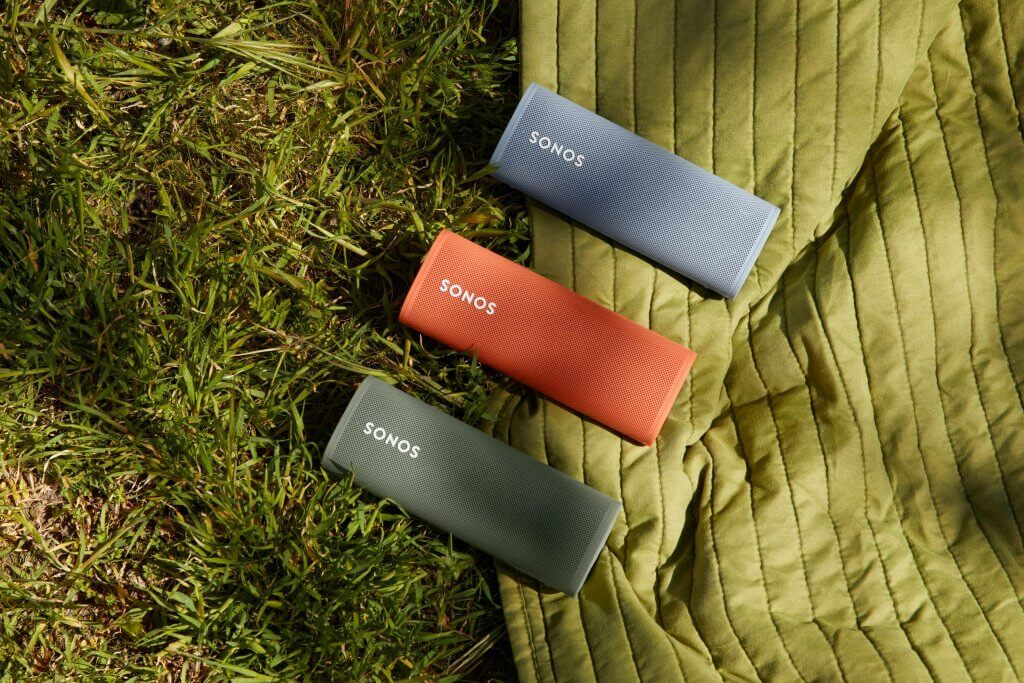 Sonos Roam Review
Design and Portability
The Sonos Roam boasts a compact and lightweight design that makes it easy to carry around. Whether you're heading to the beach, the park, or just moving from room to room in your house, the Roam is designed to be your musical companion. Its sleek design and subtle colour options mean it will look good wherever you place it.
Connectivity
One of the standout features of the Sonos Roam is its dual connectivity options. It offers both Wi-Fi and Bluetooth connectivity, allowing you to stream your music directly from your device or connect it to your home network for multi-room audio. This flexibility makes it a versatile choice for both home and outdoor use.
Durability
With an IP67 rating, the Sonos Roam is both waterproof and dustproof. This means it can withstand being submerged in water up to one metre for 30 minutes, making it a reliable choice for beach trips or poolside parties. Its robust build quality ensures it can handle the rigours of outdoor adventures.
Battery Life
The Sonos Roam offers a 10-hour battery life, which should be more than enough to get you through a day of listening. When the battery does run low, you can easily recharge it using the included USB-C cable or with any Qi wireless charger.
Smart Features
The Sonos Roam supports voice control with Amazon Alexa or Google Assistant, allowing you to play music, check the weather, set alarms, and more, all with just your voice. This adds an extra layer of convenience, especially when you're using the speaker outdoors and want to keep your hands free.
Sound Quality
Despite its compact size, the Sonos Roam delivers a rich, detailed sound that's impressive for a speaker of its size. While it may not be as robust as larger Sonos speakers, it still offers a sound quality that's a cut above most portable speakers on the market.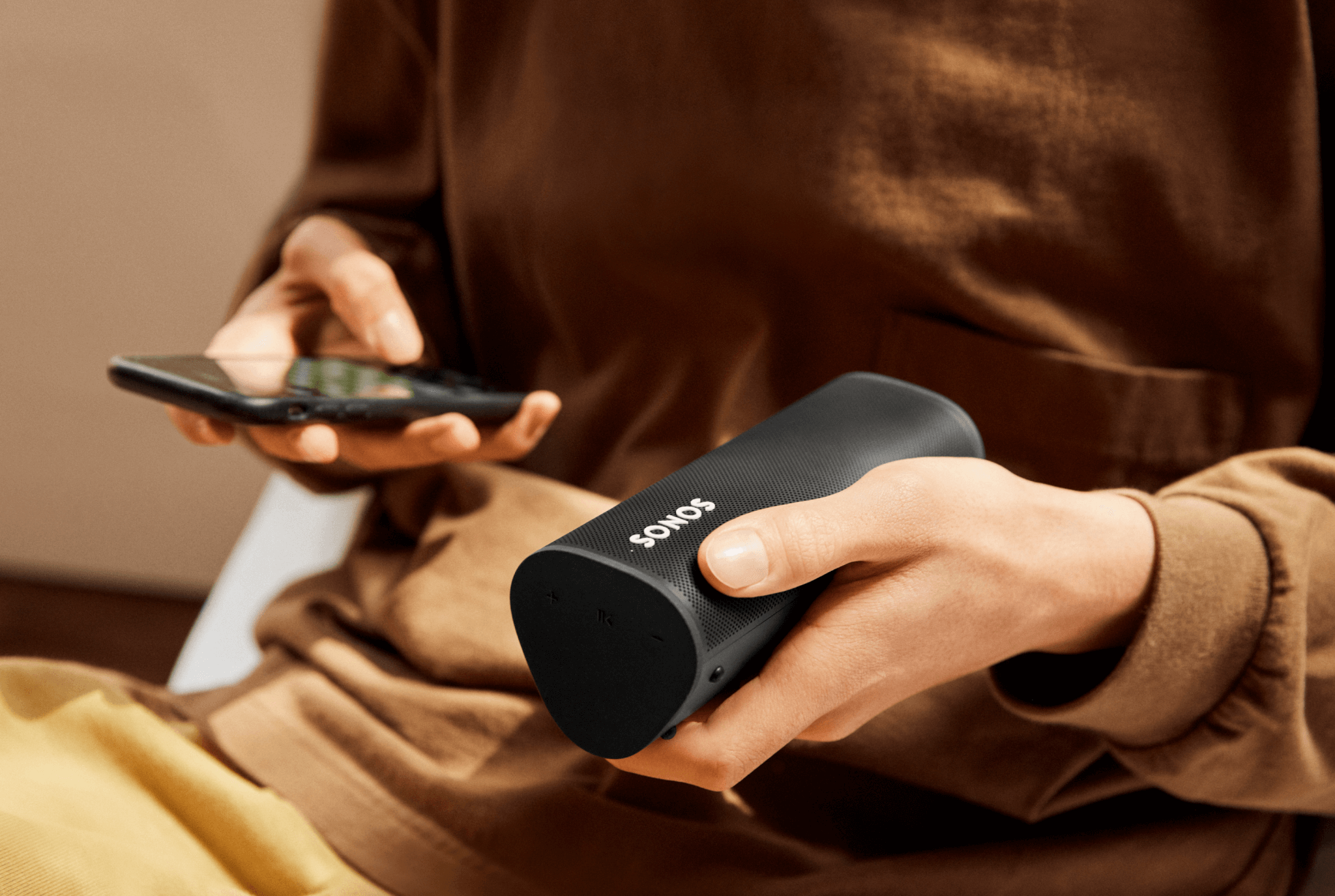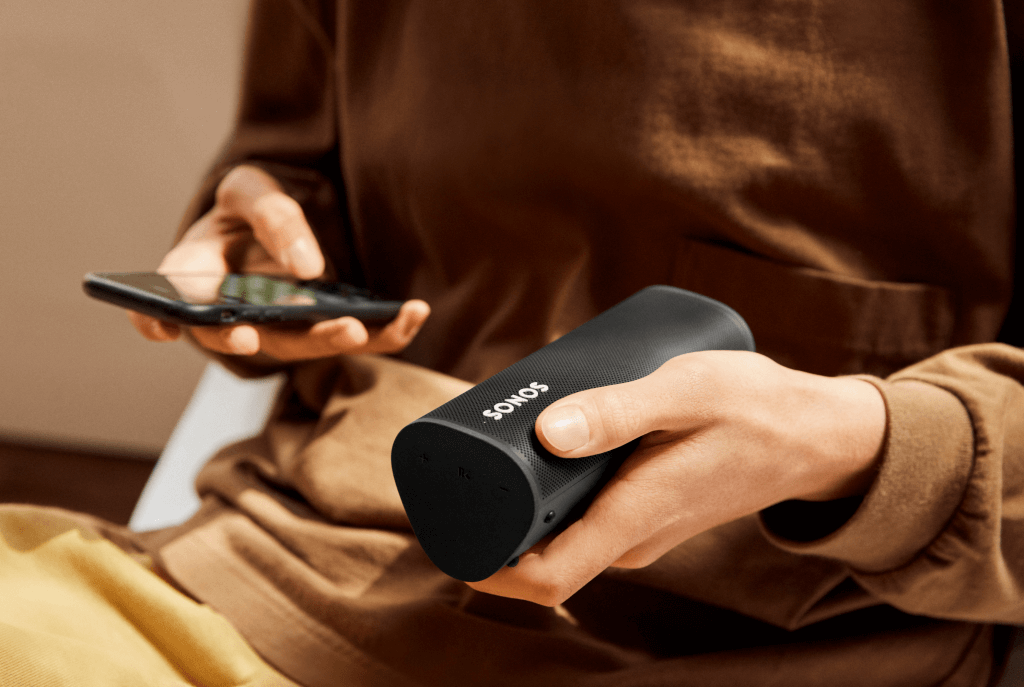 Integration with the Sonos Ecosystem
One of the standout features of the Sonos Roam is its seamless integration with the broader Sonos ecosystem. If you already own Sonos products, the Roam will fit right in, expanding your home audio setup with its portable capabilities.
The Roam is Sonos's only true portable speaker— it'll fit in your bag if you're going out for the day or on a weekend trip. But when you're at home and connected to Wi-Fi, the Roam can be part of your Sonos multi-room audio system. An incredibly useful feature, allowing you to play the same song on all your Sonos speakers simultaneously, or play different songs in different rooms.
Sonos multi-room audio with multiple speakers
This multi-room audio system is what Sonos is known for, they've pioneered this feature over the last 10 years. So as you'd expect, they have a great sounding speaker for every situation.
For instance, the Sonos Move is a larger, more powerful portable speaker— its easy to move around the house, but too large to take with you on a trip. It delivers high-quality, room-filling sound, and its weather-resistant design makes it a reliable choice for outdoor use.
On the other hand, the Sonos Era 100 is a non-portable smart speaker that offers a host of improvements and new features, including an extra tweeter and a 25 percent larger mid-woofer. These enhancements allow the Era 100 to deliver a more immersive stereo sound, deeper bass, and a higher maximum volume.
And for those seeking a more immersive and powerful listening experience, there is the Sonos Era 300. A larger wired speaker that offers support for spatial audio, providing a rich and immersive sound experience. It can also be paired with a Sonos Arc or second-generation Beam soundbar for an ultimate 7.1.4 Dolby Atmos entertainment experience.
Comparing the Sonos Roam with Similar Speakers
Let's see how the Sonos Roam stacks up against two other popular portable speakers: the Bose SoundLink Flex and the Ultimate Ears BOOM 3.
Bose SoundLink Flex
The Bose SoundLink Flex is a formidable competitor, offering a high-quality audio experience with a rugged design that's waterproof and dustproof (IP67 rated). It also features PositionIQ™ Technology, which automatically adjusts the sound based on its orientation. However, it's slightly more expensive than the Sonos Roam, and some users may prefer the sound quality of the Roam.
Pros: High-quality audio, waterproof and dustproof, rugged design, up to 12 hours of battery life, can be paired with other Bose speakers.
Cons: Slightly more expensive than the Sonos Roam, some users may prefer the sound quality of the Sonos Roam.
Ultimate Ears BOOM 3
The Ultimate Ears BOOM 3 is another strong contender, delivering balanced 360° sound with deep bass. It's designed to be virtually indestructible, passing more than 25 durability tests, and is also waterproof and dustproof (IP67 rated). However, it lacks the smart features of the Sonos Roam, and some users may find the sound quality of the Roam superior.
Pros: Balanced 360° sound, high durability, waterproof and dustproof, up to 15 hours of battery life, can be paired with other Ultimate Ears speakers.
Cons: Lacks the smart features of the Sonos Roam, some users may prefer the sound quality of the Sonos Roam.
The Verdict
The Sonos Roam is a great choice for those who want a portable speaker that doesn't compromise on sound quality. Its combination of portability, durability, and sound quality makes it a standout choice in the portable speaker market. While some users have reported issues with Wi-Fi connectivity, the overall consensus is that the Roam offers excellent value for its price.
So, whether you're a seasoned audiophile or just someone who loves to have their favourite tunes with them wherever they go, the Sonos Roam is a portable speaker worth considering. For more information on Sonos speakers, be sure to check out our comprehensive guide on the best Sonos speakers.