The latest addition to the Sonos family, the Sonos Era 100. This new smart speaker is set to replace the popular Sonos One, offering a host of improvements and new features that make it a worthy successor.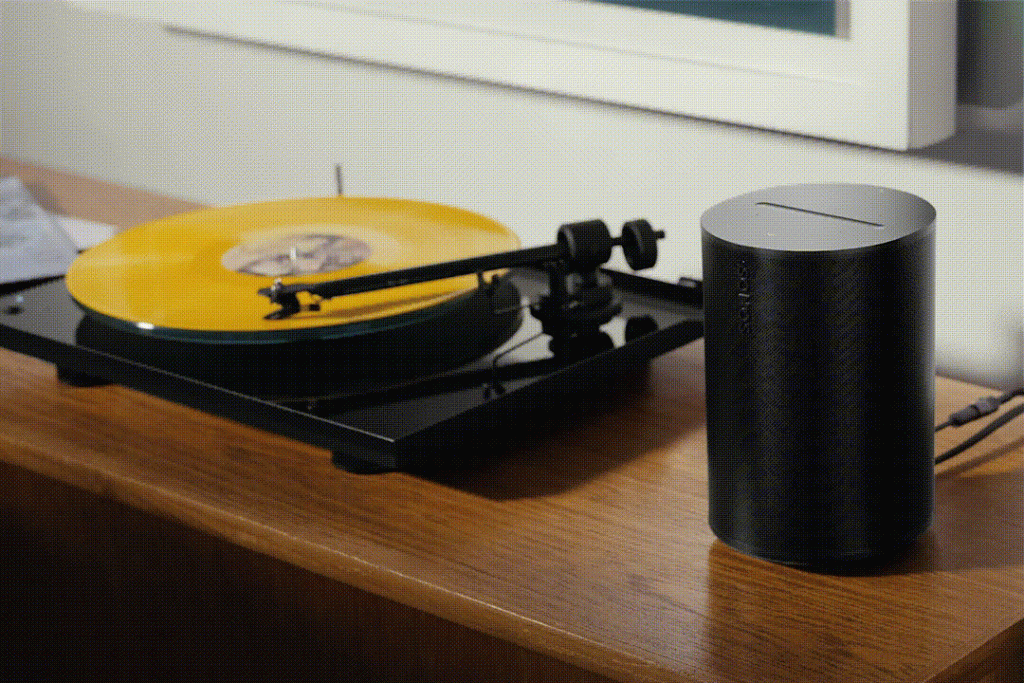 Sonos Era 100 Review
Design and Features
The Sonos Era 100 maintains a similar footprint to the Sonos One, but stands slightly taller. This extra height accommodates the additional hardware that Sonos has packed into the Era 100, including an extra tweeter and a 25 percent larger mid-woofer. These enhancements allow the Era 100 to deliver a more immersive stereo sound, deeper bass, and a higher maximum volume.
One of the most notable features of the Era 100 is its versatility. Unlike the Sonos One, the Era 100 includes a line-in USB-C port and built-in Bluetooth. These features allow users to connect the speaker directly to a turntable or computer, or to play music via Bluetooth. This makes the Era 100 the most affordable Sonos speaker that can be connected to a turntable, a feature previously only available on the more expensive Sonos Five.
Sound Quality
When it comes to sound quality, the Era 100 outperforms the Sonos One. The additional tweeter and larger mid-woofer allow the Era 100 to deliver a more spacious and punchy sound. While the difference isn't night-and-day, the Era 100's sound is noticeably more immersive and crisp, making it a clear winner in this category.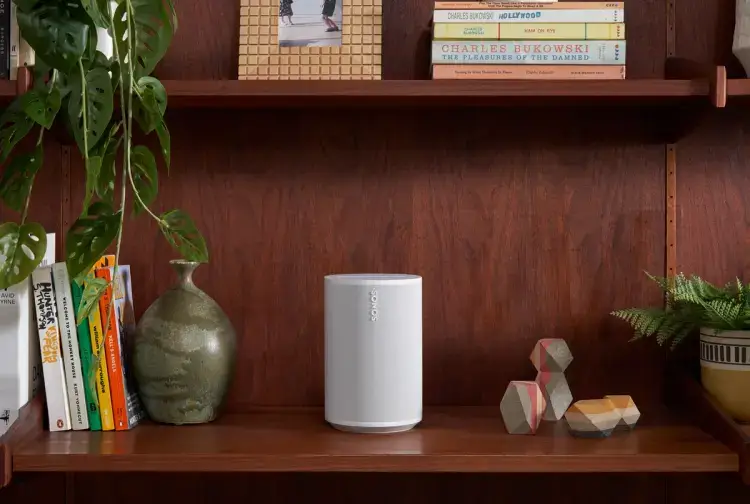 Home Theatre Setup with the Sonos Era 100
One of the standout features of the Sonos Era 100 is its ability to seamlessly integrate into a home theatre setup. When paired with another Era 100, the speakers can be configured to create a stereo pair, providing a rich and immersive surround sound experience. This is particularly beneficial for movie enthusiasts and gamers who want to enhance their audio experience.
Setting up the Era 100 speakers for surround sound is straightforward. Simply place the speakers on either side of your seating area, connect them to your Sonos network, and configure them as a stereo pair using the Sonos app. The app guides you through the process, making it easy even for those new to home theatre setups.
For those seeking an even more powerful sound, the Sonos Era 100 speakers can be paired with the Sonos Sub. This subwoofer adds deep, dynamic bass to your audio setup, further enhancing the sound quality and creating a truly cinematic audio experience. Whether you're watching the latest blockbuster, streaming a live concert, or immersed in a gaming session, the combination of the Era 100 speakers and the Sonos Sub will make you feel like you're right in the middle of the action.
Overall, the Sonos Era 100 offers a versatile and high-quality option for those looking to upgrade their home theatre audio setup. Its superior sound quality, easy integration, and compatibility with other Sonos products make it a top choice for a truly immersive audio experience.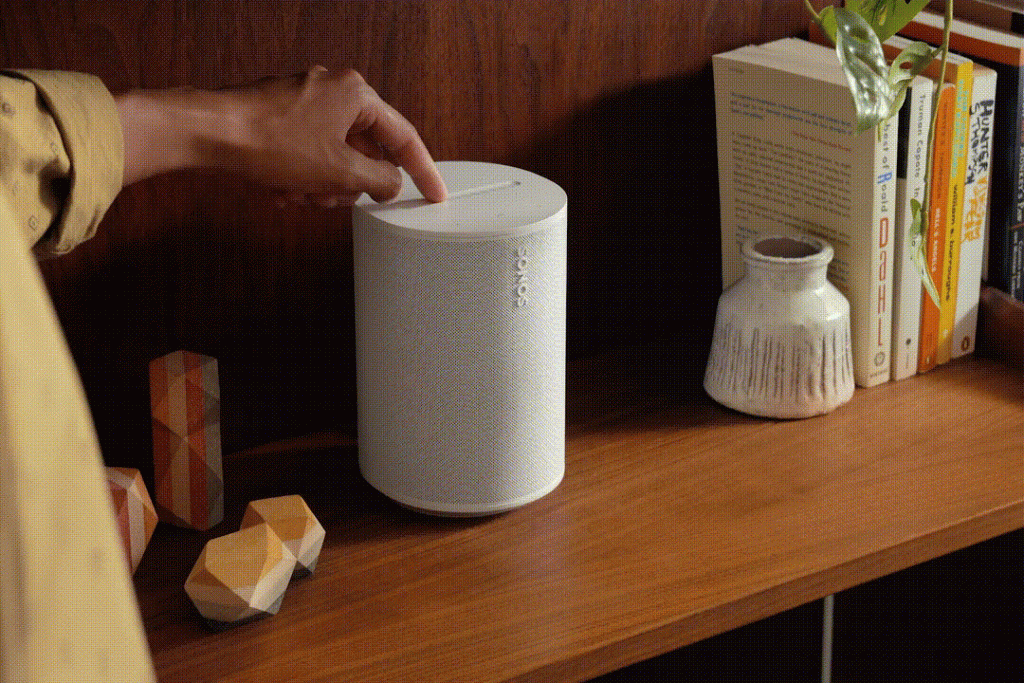 Comparison with Sonos One
While the Era 100 offers several improvements over the Sonos One, it's worth noting that the One remains a strong contender in the smart speaker market. The One is more affordable than the Era 100, making it a more economical choice for those on a budget. Additionally, the One supports Google Assistant, a feature that the Era 100 lacks due to policy changes by Google. This makes the One a better choice for those who have a Google smart home ecosystem.
However, the Era 100 shines in its advanced features and abilities. Its superior sound quality, line-in and Bluetooth connectivity, and improved Trueplay tuning for Android users make it a worthy upgrade for those willing to invest a bit more. For a more detailed comparison, check out our articles on the best Sonos speakers, Sonos Roam, and Sonos Move.
The Sonos Era 100 is a significant upgrade from the Sonos One, offering improved sound quality and additional features that enhance its versatility. While it comes with a higher price tag, the Era 100's superior performance and features make it a worthwhile investment for those seeking the best in smart speaker technology.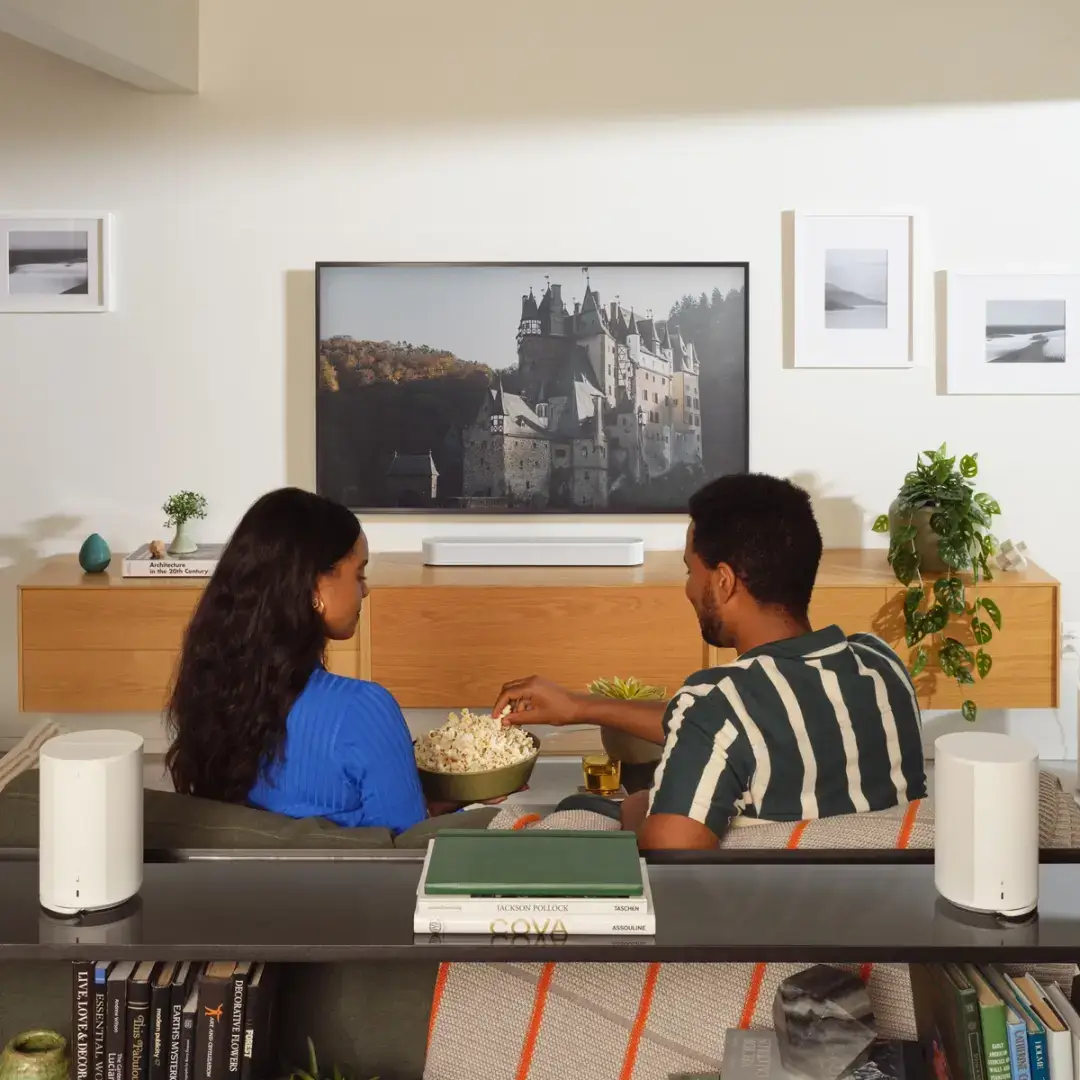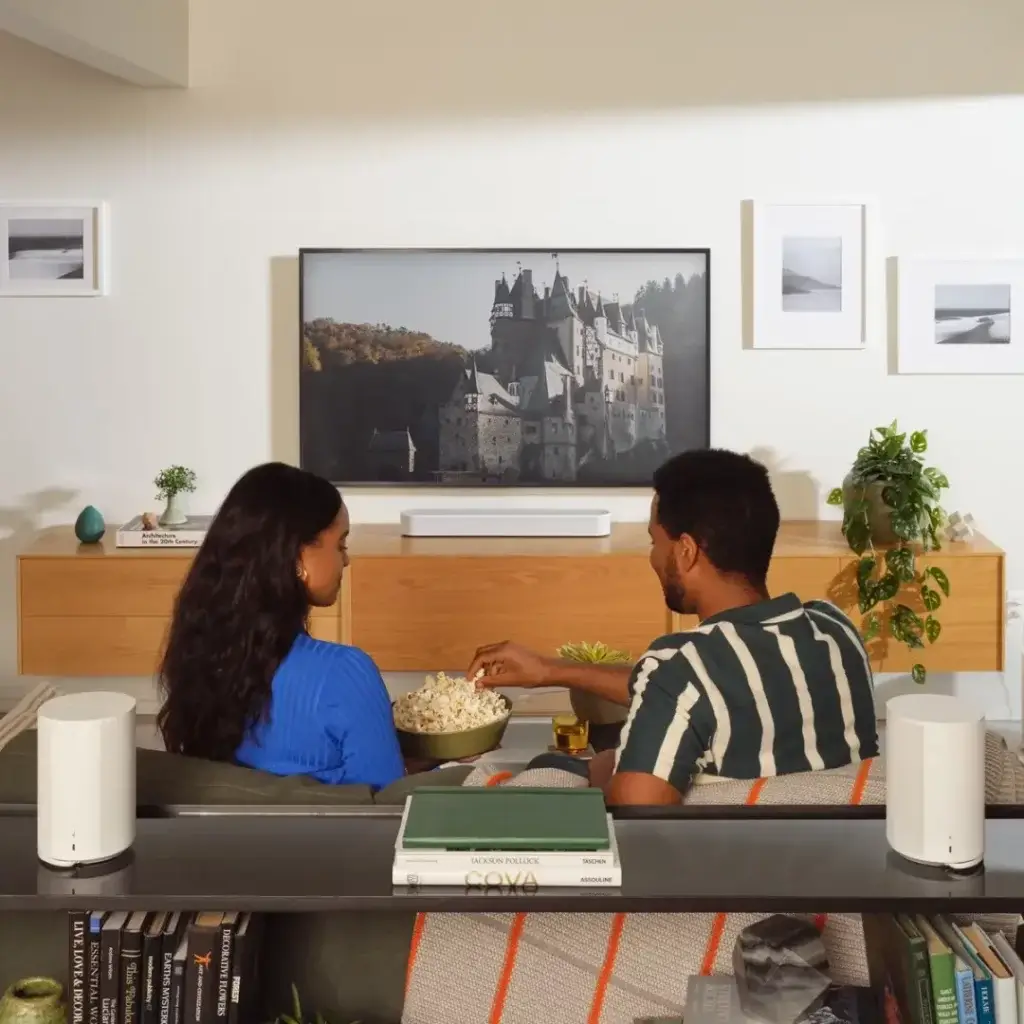 Integration with the Sonos Ecosystem
The Sonos Era 100, with its line-in USB-C port and built-in Bluetooth, is a versatile addition to the Sonos ecosystem. It's designed to work seamlessly with other Sonos speakers, allowing users to create a comprehensive and interconnected audio setup that caters to their specific needs.
When connected to Wi-Fi, the Era 100 can be part of your Sonos multi-room audio system. This feature allows you to play the same song on all your Sonos speakers simultaneously, or play different songs in different rooms. This multi-room audio system is a standout feature of Sonos, offering a unique and immersive audio experience.
Sonos multi-room audio with multiple speakers
Within the Sonos ecosystem, there are a variety of speakers that cater to different needs and preferences. For example, the Sonos Roam is a true portable speaker that can fit in your bag, making it perfect for trips or outings. However, when at home, it can be part of your Sonos multi-room audio system, just like the Era 100.
The Sonos Move is a larger, more powerful portable speaker that offers both Wi-Fi and Bluetooth connectivity. It delivers high-quality, room-filling sound, and its weather-resistant design makes it a reliable choice for outdoor use.
For those seeking a more immersive and powerful listening experience, the Sonos Era 300 is a larger wired speaker that offers support for spatial audio, providing a rich and immersive sound experience. It can also be paired with a Sonos Arc or second-generation Beam soundbar for an ultimate 7.1.4 Dolby Atmos entertainment experience.
Whether you're new to the Sonos ecosystem or looking to expand your current setup, the Sonos Era 100 offers a versatile and affordable way to enjoy high-quality sound wherever you are.