I'll start off with the unfortunate disclaimer that so far I've been somewhat late to the party with Japanese Whisky, having only tasted a few. So when the team from Suntory asked me to join them for the Sydney launch of their newest expression; 'Hibiki Japanese Harmony'. I jumped at the opportunity – I mean really… who could say no?
The evening was held in one of the wharves under the harbour bridge, in an amazing event space that I didn't even realise was there! It was great to see how far they had committed to the Japanese theme; Cherry Blossom's hung from the ceiling, traditional drummers, delicious food, and of course Whisky.
Until 2000 Japanese whisky was almost entirely sold to the domestic market and remained largely unknown outside of Japan. This changed in 2001 when Nikka's 10-year Yoichi single malt won "Best of the Best" at Whisky Magazine's awards. This marked a turning point for Japanese whisky which almost overnight became a huge sensation, with Suntory whiskies winning gold medals for 10 years straight!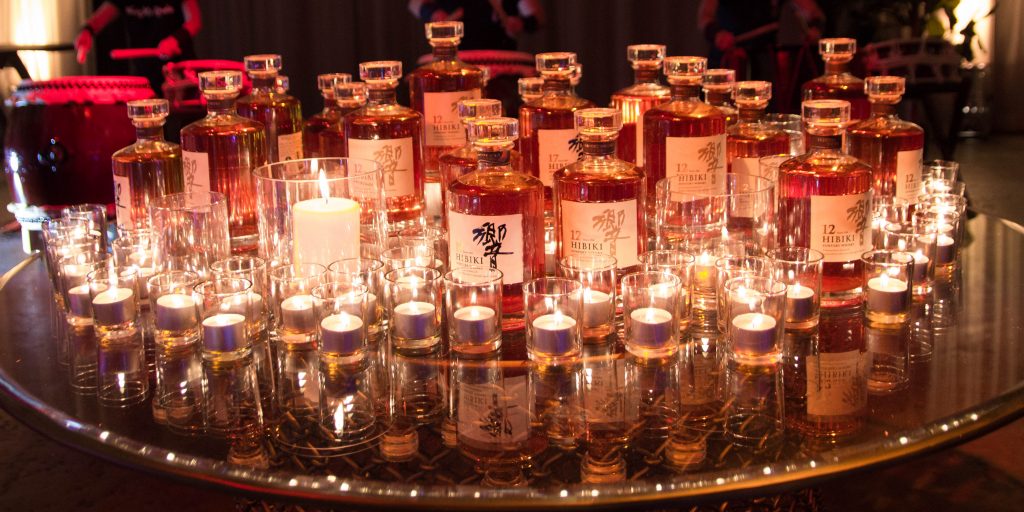 Hibiki is the most awarded whisky in the Suntory family, and when you taste it you can really see why. The distillers have done a fantastic job of producing a smooth family of delicious malts similar to those produced in highland Scotland. But much smoother than the Islay whiskies like Talisker.
Interestingly, the Suntory family initially shied away from age statements on their bottles. As far as they where concerned good whisky has little to do with age – it's ready when its ready. In fact, they had no age statement on the bottle for their first blend, It just happened to be 17yo and people kept asking, so they added it.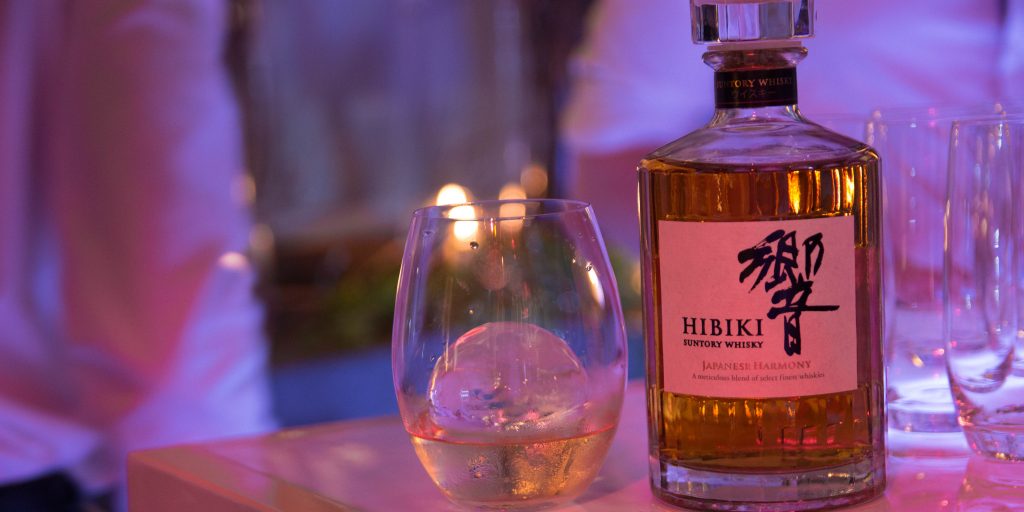 The tasting itself involved listening to the brand ambassador from Japan as he walked us through sampling a few whiskies that the distillers combine to produce Hibiki Japanese Harmony.
The first of which was a very smooth oaky vanilla Chita Grain Whisky (43%abv). Which is aged in slightly smaller barrels than normal resulting in 'faster' maturation of flavour.
We then sampled the Sherry Cask Whisky (50%abv) which I loved! Both the smell and taste reminded me of rum and raisin chocolate when you just open the packet, yummmmmm. It was also notably darker in colour and very mildly peated – I'd love to get my hands on a bottle.
The final element that we tasted was a Mizunara Cask Malt whisky (50%abv). On the nose it was quite different, with scents of sandalwood and incense – Ill be honest, compared to the other whiskies, I wasn't a huge fan of this expression.
Eventually, we got our hands on the newly released Hibiki Japanese Harmony. I'd been writing down notes on my phone for each whisky we had tasted with the plan to flesh them out when I got home – but really, I think what I wrote down on the night summed it up quite nicely;
Hibiki Japanese Harmony – Amber colour. Orange peel. Honey. Long finish. Bloody delicious.
And it really is that good. If you're a fan of Japanese whisky or even smooth scotch whisky, you're going to love the Japanese Harmony. The hardest part is going to be getting your hands on a bottle, You can order it online from Dan Murphy's here.