If you're reading this article, you're probably in the market for a new suit and are weighing up tailored suit vs off the rack.
The key to the perfect suit is the fit. 
There are no two ways about it. You can have amazing fabrics and quality construction but if the suit doesn't fit YOU perfectly then YOU will never look great in it.
I can't stress this enough.
Regardless of body shape or size, a tailored suit that fits well, will make you look like you can do your boss's job.
Essentially you have 3 options when shopping for the perfect suit, each having their pros and cons;
Bespoke
Made to measure
Off the rack
Each method has its pros and cons with fluctuations in price, quality, customisation and fit.
---
You might also like: 
---
Off The Rack Suits
Let's start with the most widely available option – off the rack suits.
These are suits you purchase directly from a store, generally with the design limited to that season's range, and with sizing set off predetermined measurements that vary from brand to brand. This variation in sizing and fit means its always best to shop around and have a good chat with the guys in-store to find the right fit and style.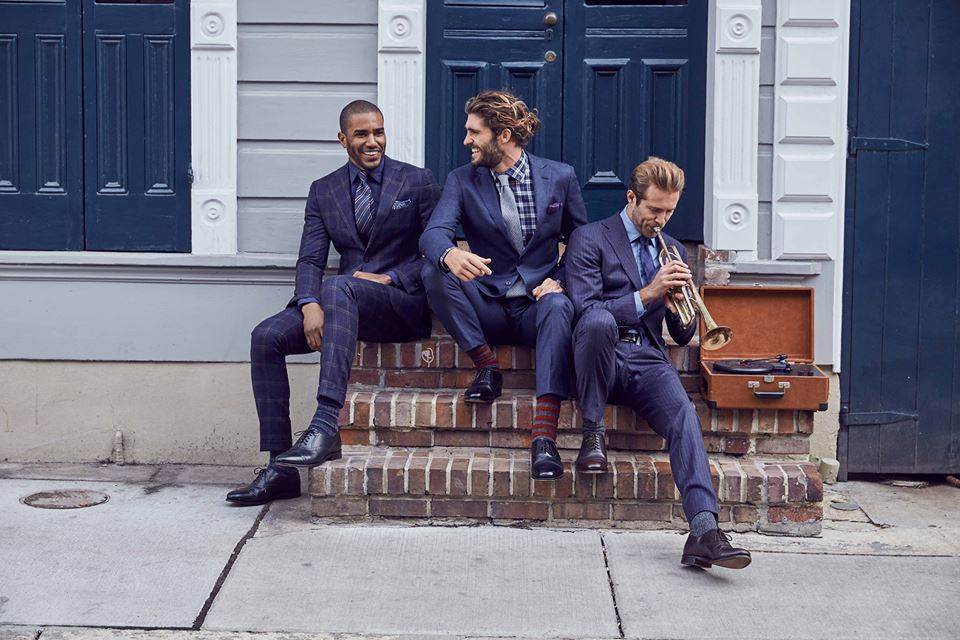 Depending on the quality of the suit, you can expect to pay $300-$700 from most brands. Although price doesn't necessarily equal quality here, a lot of the high street and department store brands charge far more than the should. Convenience and the ability to pick one up without much fuss are big bonuses, but do be aware that quality of construction can vary.
I'd also be prepared to spend an extra $100-$200 on getting the suit altered. 9/10 you are going to need to get the sleeves & pant legs taken up or down. But would recommend going a step further and getting a decent alterations shop to pin the whole suit for you – make sure you factor this into your budget so it doesn't sting so much when you get the bill.
Personally, I'd recommend checking out the suits at MJ Bale, I actually own 3 of their suits myself and have been really happy with the design and quality from these guys. In fact, I wore a navy MJ Bale Tuxedo to the GQ Man of the Year Awards last year.
Made To Measure Suits
Made to Measure suits are the perfect bridge between bespoke and off the rack. Generally costing around the same price as an off the rack suit, but without the expense or fuss of alterations – if you're happy to wait a few weeks for the suit to be made and shipped to you.
Exactly as the name sounds, a 'Made to Measure' suit is custom fitted to your measurements and design requirements. You or a tailor simply record 10-15 measurements (shoulder width, arm length, chest, waist… etc) and select your fabric and any customisations you'd like.
The fabric is then cut and a suit made specifically for your bodies measurements, removing any need for alterations to occur when you receive the suit.
I've put together a list of the best tailored suit shops in Sydney, its a mix of made-to-measure shops, and bespoke tailors. But use it as a starting point when you're shopping around for a tailored suit.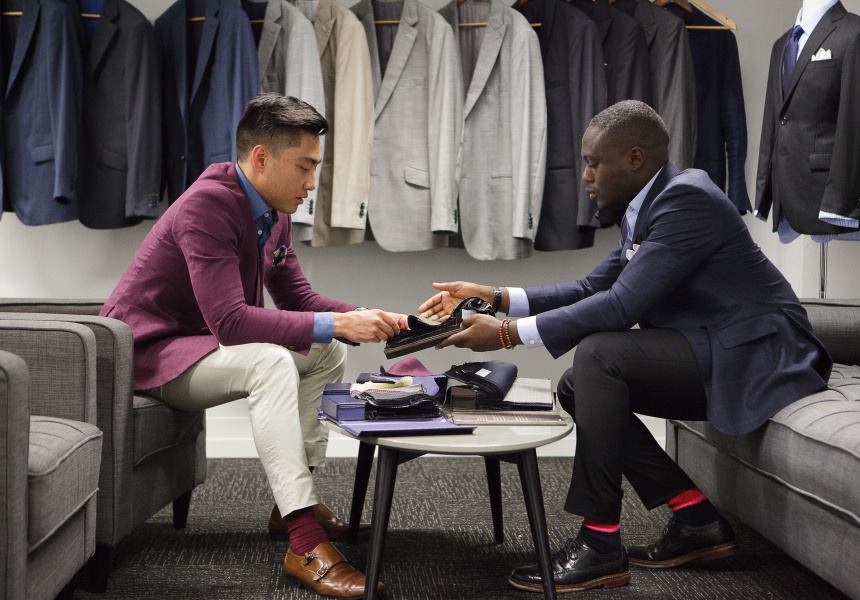 This is not a new concept, plenty of guys have met travelling tailors from Thailand and China, but the guys from InStitchu have taken the whole experience online and removed the risk of dealing with an overseas party. You can either submit your design and measurements online or go meet them in their Sydney, Melbourne or Brisbane showrooms.
Bespoke Suits
Bespoke tailored suits take the fit and customisation of design to the next level.
A tailor will first meet with you to discuss and provide guidance on what you are looking for. Typically taking your measurements and showing you their range of fabrics – the right tailor should be able to produce a bloody good suit even with just one round of measurements.
A few weeks later you return for your second fitting and a round of alterations. The aim of this fitting is to get the suit from a good fit to a great fit.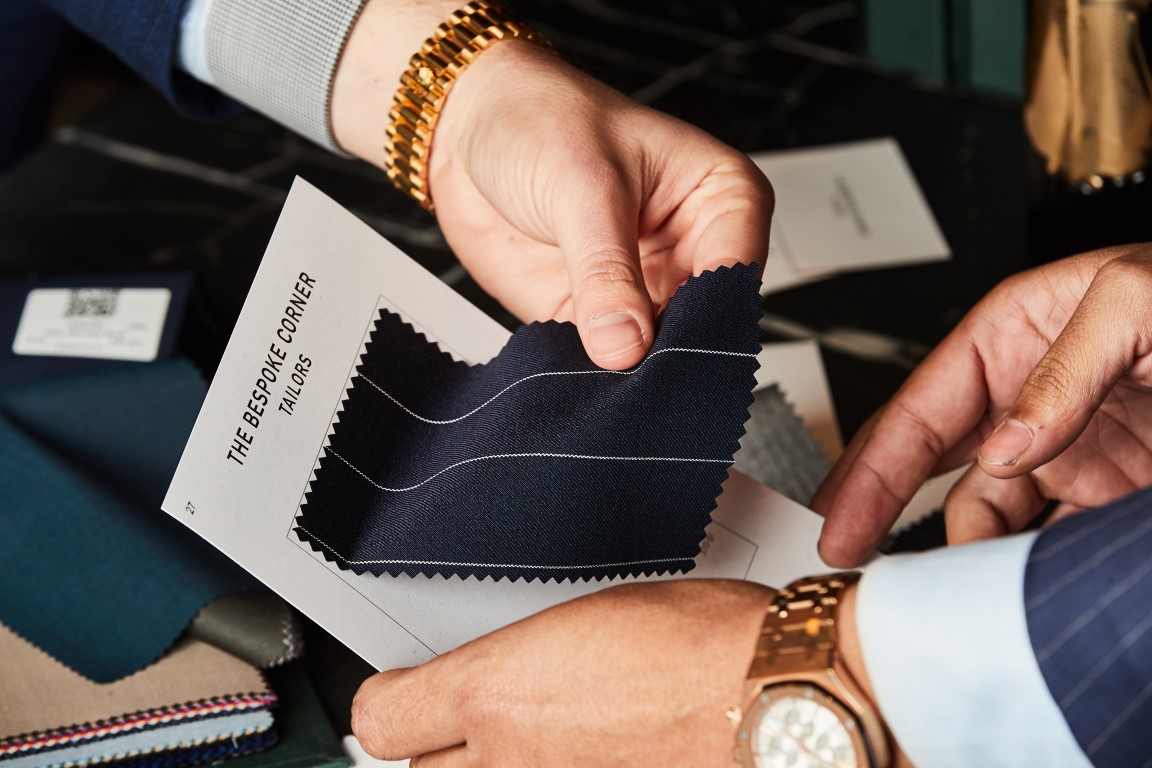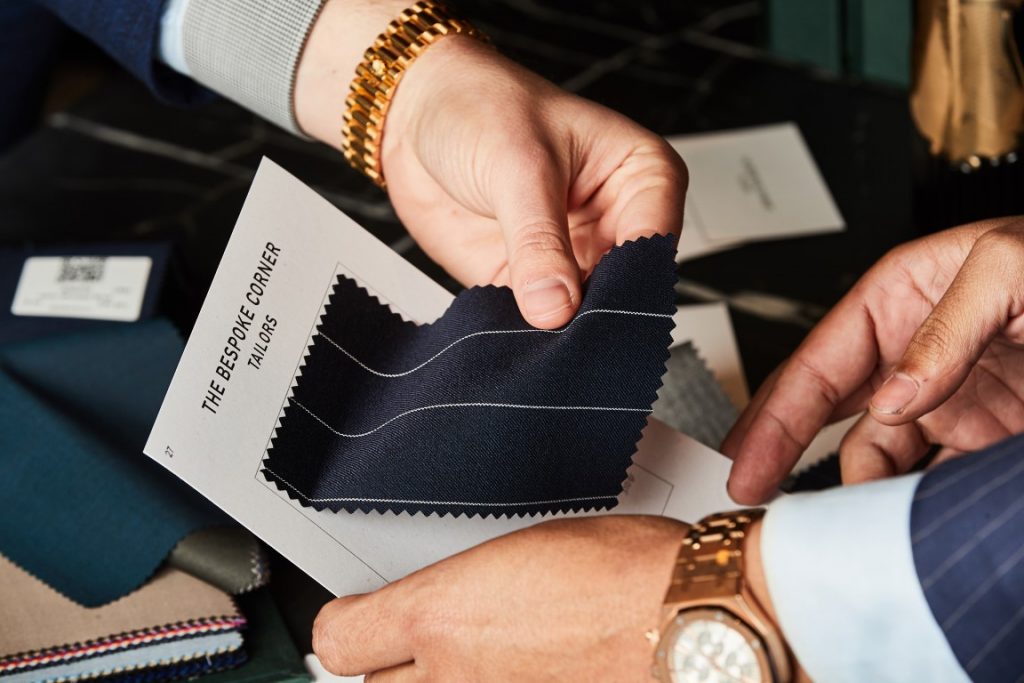 In the fitting, your tailor might change simple things like checking sleeve and pant length, or more complex things like the way fabric drapes/pulls across your chest. This old-school approach to suiting is all about the craft of handmade suits, with a focus on achieving the perfect fit.
A major part of opting for a bespoke suit is the experience. Sitting down with a whisky, and discussing what you are after. If you are happy to drop the $$$ on the perfect suit then get in touch with Miles from The Bespoke Corner. He'll meet you anywhere at any time to discuss anything you need for your bespoke wardrobe.